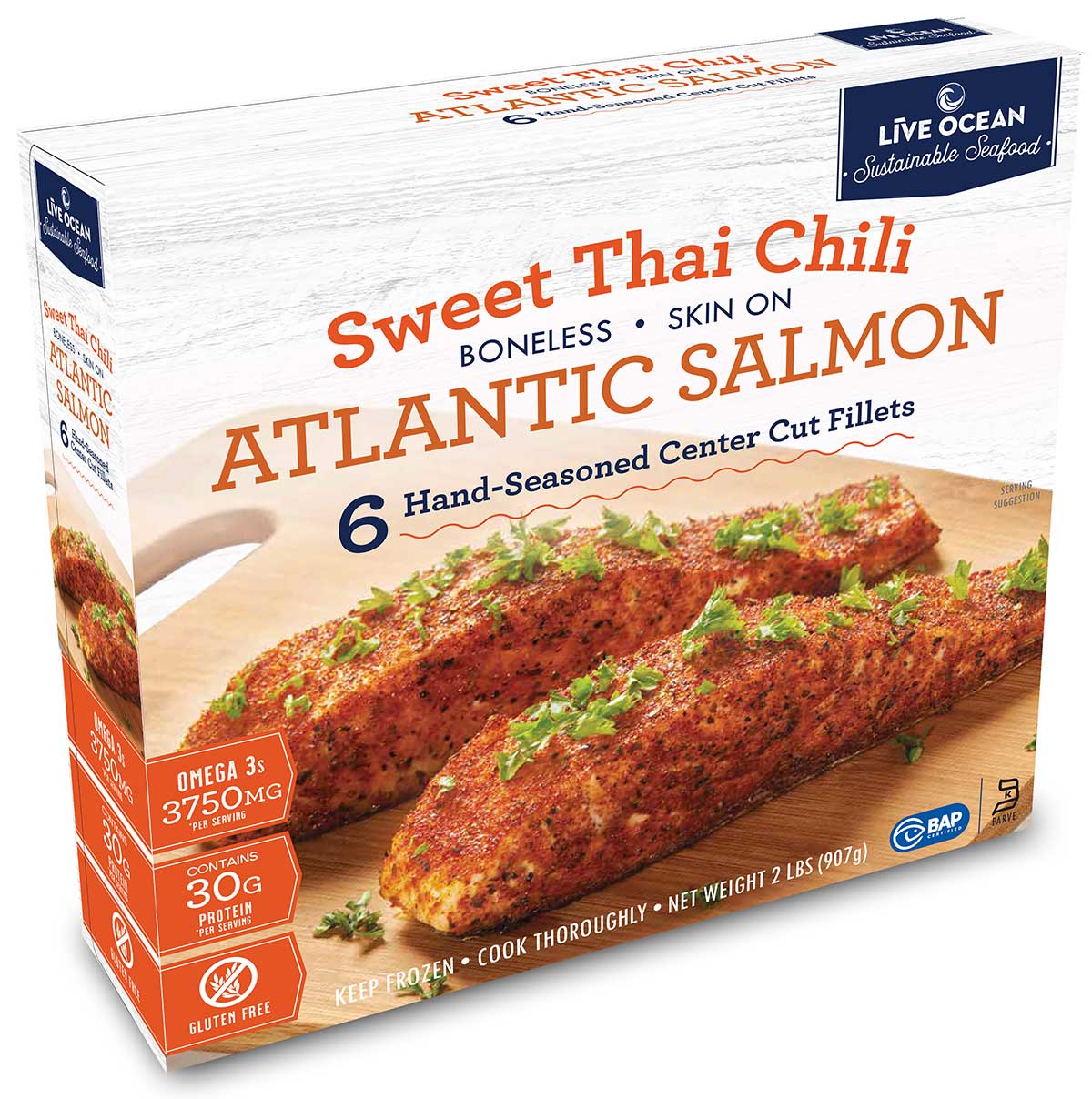 Our Sustainable Atlantic Salmon are proudly Ocean-Raised in the natural fjords of Chile. Sustainable Seafood means supporting a balanced population of fish in the wild. By ocean farming Atlantic salmon we are ensuring that we don't take more seafood than nature can produce for a growing human population. We hope you will join us in eating sustainably harvested seafood and working towards a more fish populated LIVE OCEAN, in every way possible. Scroll down for nutritional info.
Nutritional Information

Serving Size 1 Piece (151g).
Amount Per Serving
Calories 320
% Daily Value*
Total Fat 19g
24%
Saturated Fat 4.5g
23%
Trans Fat 0g
Cholesterol 80mg
27%
Sodium 780mg
34%
Total Carbohydrate 5g
2%
Dietary Fiber 0g
0%
Total Sugars 3g
Includes 3gm added Sugars
6%
Protein 30g
Vitamin D 15.7mcg
80%
Calcium 0mg
0%
Iron 1.3mg
8%
Potassium 580mg
10%
*Percent Daily Value tells you how much a nutrient in a service of food contributes to a daily diet.
Ingredients
ATLANTIC SALMON (COLOR ADDED), SUGAR, SALT, CHILIES, BROWN SUGAR, SPICES (BLACK PEPPER, CORIANDER, GINGER, BASIL, CUMIN, CARDAMOM, FENUGREEK), GARLIC, ONION, TUMERIC.
.
CONTAINS FISH (SALMON)
DISTRIBUTED BY:
LIVE OCEAN LLC, SAN DIEGO, CA 92128, U.S.A.
FARM-RAISED
PRODUCT OF CHILE
FROZEN
COOKING INSTRUCTIONS ON PACKAGING OR SEE RECIPES HERE